Symbol Veils can bring power and impact to your dancing as audiences unconsciously bestow upon your dance the inherent qualities of the symbol you choose.

Be it simple geometric figures (circles, diamonds, triangles), symbols of nature (hearts, flowers, water) or spiritual symbols like (yin/yang, cross, star of David, or the double vajra below) they lift your dance with another layer of universal language.

Everyone covets this nearly 4 yard veil made expressly for Nadia Sahar.

It's died on 5 mummy Japanese Habotai silk with Procion dye using the quick and easy microwave method.

The colors used are: Golden Yellow, Turquoise, Brilliant Blue, Lilac and Teal.

My favorite place to purchase dye products and is through the Dharma Trading Company for unbeatable quality, service and price.





For Nadia Sahar 2003, DOUBLE VAJRA IN VAJRA




Magic Flying Carpet Veils!
You can really see the effect in the first frame. look like


Belly Dance Fantasy Festival 2003, VAJRAYANA


I experimented with different center medallion shapes, one a central diamond as many turkish rugs and the other a cross from a traditional Amish quilt block.

STILL NEED AN IMAGE OF THE "TURKISH" FLYING CARPET VEIL RIGHT HERE!
Hanging in my dining room window, FLYING TURKISH CARPET and below FLYING CROSS CARPET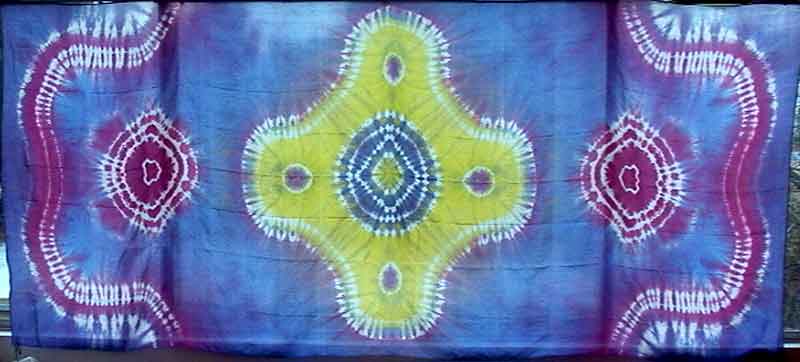 Circles and diamonds are also powerful symbols with their own dynamic properties.
This DOUBLE DIAMONDveil creates some interesting effects on stage.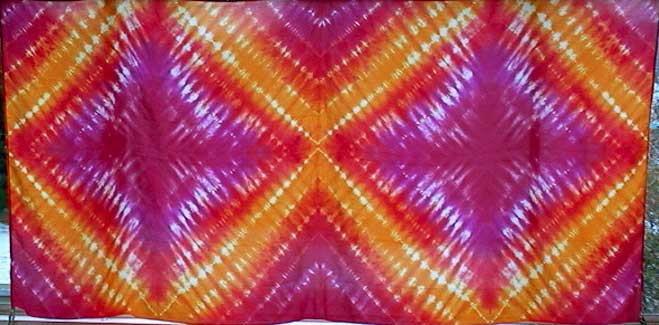 ©2001,2002,2003 All content and images on this site are the sole property of Vajra Vision and Vajrayana.
No duplication or reuse without the express written consent of Vajra Vision or Vajrayana is permitted.
All rights are reserved.
This site is best viewed with the latest version of: