CLASSES

All Sizes, Shapes & Skill Levels Welcome!

Beginner, Intermediate & Advanced
WEDNESDAY EVENING @ 7:30PM
SUNDAY MORNING @ 11:30AM
Private Instruction by appointment

Series of 8 = $40 ($5/class)
Drop In = $10/class
Private Class = $30

SPACE LIMITED ~ Reserve UR SPOT!

If you would like to join class, please email for directions, since I'm not able to post directions to my home on the web.

Price ~ Price should not be an obstacle to this awesome art and fitness form. I do this from the heart; not for financial gain.

Class Size & Time ~ Classes are small, comprising no more than 8 students, though my space is as large at either of the nearby studios. Being an educator, I want to give each student attention. Classes are scheduled for 1 hour, but frequently last an hour and a half depending on the spirit of the group.

Warm-up & Workout ~ As I am very much into injury prevention and welcome every size, shape, and age of student, I always being with a warm up, and strength conditioning targetted to the muscle groups most crutial to belly dancing before we cut loose and dance. Because belly dance is naturally low-impact, I strive to maintain a minimum of 15 additional minute of continuous aerobic activity during the movement portion of dance instruction.

Instruction & Style ~ Most would say I teach an improvizational arabic-fusion style where the focus in on creating your own dance. Truly, I want my students to experience that joy of artistic expression, beyond technique or choreographed steps I could teach.

Performance ~ Students are not required to perform under any circumstances, however, most end up trying it, and find it to be an incredibly empowering experience. To that end, it is often more comfortable for students to dance their first performance to choreography, and I offer that as well, but by far the majority of instruction is technique, movement and musical interpretation.

Musicality ~ Students learn the essential middle eastern rythms and are exposed to a variety of contemporary and classical music from around the world, as well as specialized attention to local bands should they have the good fortune to dance to live music at a party or performance.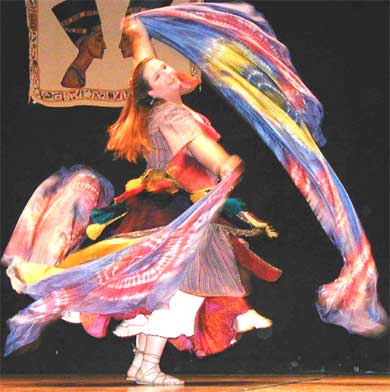 UPCOMING PERFORMANCE

NOVEMBER 2009
Cave City. CA
Belly Dance Fantasy Festival